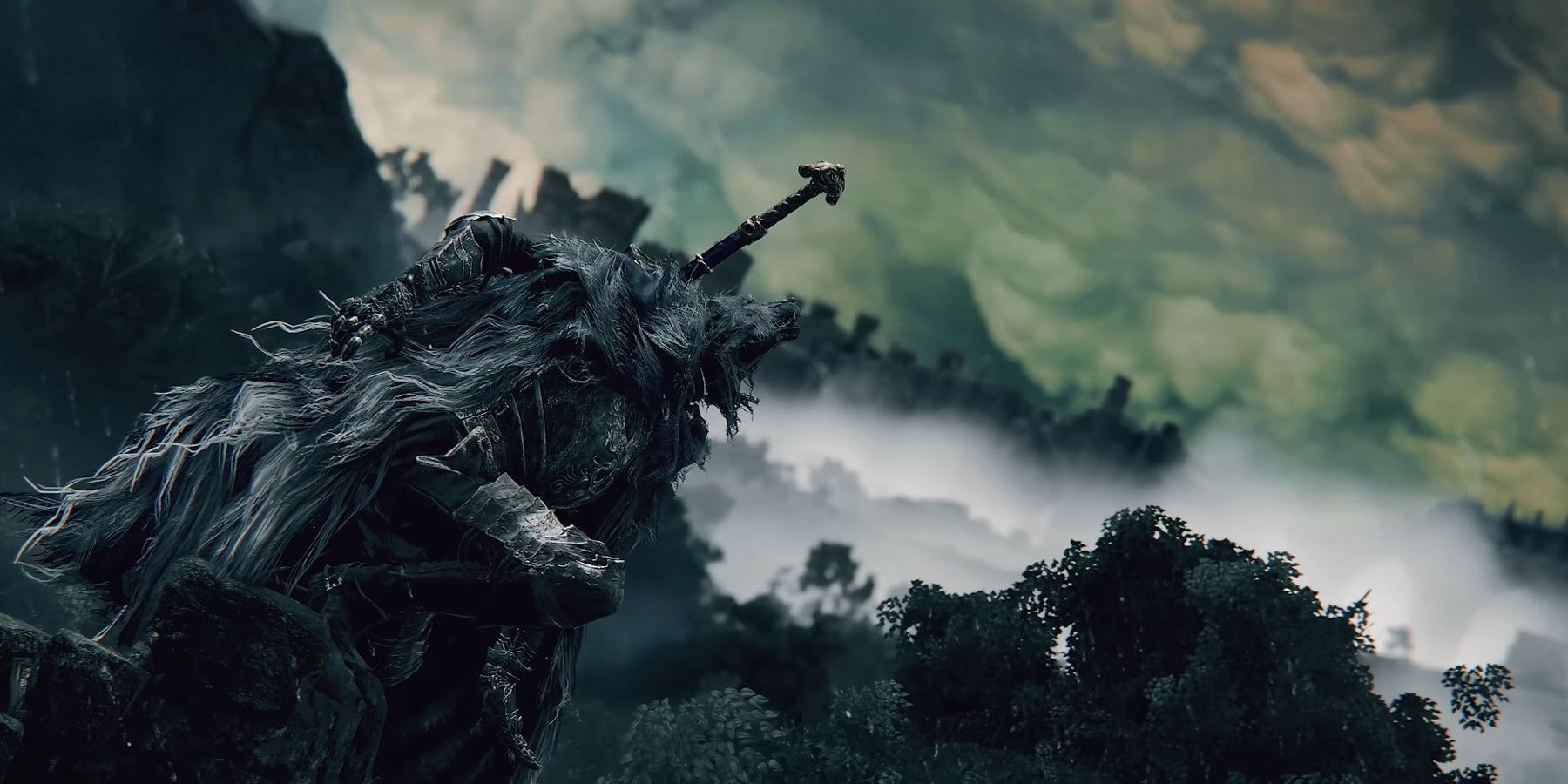 While exploring the Mistwood in east Limgrave, Elden Ring players will hear some howling that is connected to a fairly elaborate side quest. This quest centers around a character known as Blaidd the Half-Wolf, and fans may be unclear about exactly how they are to approach it. Shining some light on this matter is the precise purpose of this guide, and players will find a complete walkthrough of Blaidd's side quest in Elden Ring below.
Elden Ring: Blaidd The Half-Wolf Side Quest Guide
Howling in Mistwood
Upon hearing the howling in Mistwood, players should head to the Church of Elleh in west Limgrave and speak with Merchant Kale. Fans should then select the "about the howling in Mistwood" dialogue option in order to obtain the Finger Snap gesture in Elden Ring. After learning this gesture, players should return to the Mistwood Ruins, wait to hear the howling, and use Finger Snap to force Blaidd to appear near the north entrance to the ruins.
GAMERANT VIDEO OF THE DAY
RELATED: Elden Ring: How to Use Grand Lift of Dectus
Find Darriwil
In the preliminary conversation with Blaidd, he will reveal that he is looking for a "traitor" known as Darriwil. This NPC is found inside the Forlorn Hound Evergaol, which is situated near the Bridge of Sacrifice that leads south out of Limgrave, and players can summon the Half-Wolf for the battle if they wish to. Once fans beat Bloodhound Knight Darriwil in Elden Ring, they should speak with Blaidd outside the Evergaol until he tells them about a blacksmith that is north of Raya Lucaria.
Find Blacksmith
The blacksmith that Blaidd mentions is named Smithing Master Iji, and he can be found near the Road to the Manor Site of Grace that is northwest of Elden Ring's Raya Lucaria Academy. Players will encounter a wall that seemingly blocks their path to Iji as they pass through the Kingsrealm Ruins. However, the wall that fills in the archway on the north side of the ruins is illusory, and fans should hit it to pass through.
Players should speak with Iji until they "Blaidd sent me" dialogue option appears. Selecting this option will add the Carian Filigreed Crest to the vendor's inventory, which lowers the FP that is consumed by using skills. Notably, this marks the end of this track of Blaidd's side quest, though it is picked back up as part of another quest that will now be detailed.
Talk to Ranni
After defeating Elden Ring's Rennala, Queen of the Full Moon and clearing out Caria Manor in the northwest corner of Liurnia, players should head to Ranni's Rise. This location is just west of Caria Manor, and players should speak with Ranni at the top of the tower and choose to serve her. When that is done, fans should speak to the NPCs at the bottom of the tower, one of which is Blaidd, and return to Ranni to be allowed to leave her domain.
Find Blaidd in Siofra River Well
Players must now track down Blaidd in the Siofra River, and the elevator the leads to that underground location is just northeast of the Minor Erdtree near the Mistwood. With respect to Blaidd's position in the Siofra River, he is standing at the edge of a cliff near a Spiritspring, and it has been marked on the map that is above. The Half-Wolf will now instruct fans to speak with Seluvis, who can be found in Seluvis's Rise just southeast of Ranni's Rise.
Speak with Seluvis, Sellen, and Blaidd
Elden Ring players should speak with Seluvis when they arrive at Seluvis's Rise, and he will send them to find Sellen. This character can be found underneath the Waypoint Ruins, which is located west of the Mistwood, and fans should return to Blaidd in the Siofra River after talking to her.
Go to Redmane Castle
At this point, players should head to Redmane Castle at the southeast corner of Caelid, and they will find Blaidd once again before they battle Elden Ring's Starscourge Radahn. Fans can then speak with Blaidd upon the conclusion of the fight to advance his quest line further. To note, if a player slays Radahn before initiating Blaidd's side quest, they should find a message from him back at the Mistwood Ruins.
Complete Ranni's Quest
Players must now complete the entirety of Ranni's quest in Elden Ring. This is a fairly involved endeavor that requires trips to a number of hidden locations, and fans that are stuck on the quest may want to reference a guide that covers it in full detail.
Return to Ranni's Rise and Kill Blaidd
With Ranni's quest completed, players should return to Ranni's Rise to encounter a hostile Blaidd. This is the final part of this character's quest line, and fans will receive the Royal Greatsword and Blaidd's armor set in Elden Ring when they defeat him. Players can also find a Black Wolf Mask on the wall that encircles Seluvis's Rise if they want to complete the look.
Elden Ring is available on PC, PlayStation 4 and 5, and Xbox One and Series X|S.
MORE: Complete Guide To Elden Ring: Weapons, Tips, Tricks, Bosses, & Builds
Elden Ring Player Creates Ross Geller from Friends Using Character Creator
Elden Ring player creates a character that resembles Ross Geller, one of the most iconic characters from the popular Friends TV series.
Read Next
About The Author

William Parks (2011 Articles Published)
William Parks is an editor at Game Rant with a background in visual arts. Upon graduating from the University of Southern California's School of Cinematic Arts, William entered the realm of fine arts administration, assisting curators, artists, and fine art professionals with the realization of contemporary art exhibitions. All the while, William's passion for games remained. William's first console was the NES, but when he was eight, it was The Legend of Zelda: Link's Awakening on Game Boy that fully cemented his interest in the format. This interest reached a height with MMORPGs like Asheron's Call 2, Star Wars Galaxies, and World of Warcraft, on which William spent considerable time up until college. Now, William enjoys playing Super Mario Maker 2 on the Switch with his daughter and finding time to sneak in the newest From Software game when possible. So too, an interest in Magic: The Gathering has persisted since William's youth, and he can frequently be found watching Magic streams on Twitch and reading over the latest set spoilers.
More From William Parks