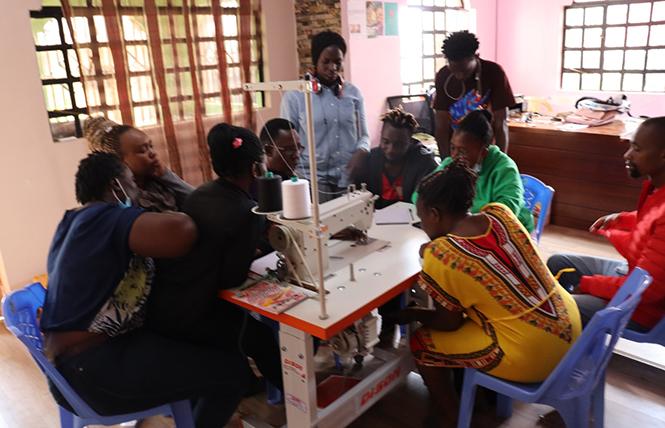 Some African LGBTQ refugees are finding new hope in Kenya through the Organization for Refuge, Asylum and Migration's livelihoods programs.
In 2019, ORAM began soap-making and chicken farm projects with partner organizations at Kakuma, the world's largest refugee camp located in northern Kenya, and in Nairobi, as the Bay Area Reporter reported. The project's goal was to build refugees' entrepreneurial skills, provide needed products and services at the camp, provide a way for queer refugees to create sustainable income, and reduce homophobia, particularly at the camp.
ORAM provided some seed money and supplies and worked with local partner organizations that provided entrepreneurship training and mentorship for the refugees. The agency, which has an estimated $500,000 budget, operates under the umbrella of Alight, a global refugee group.
The livelihood programs have grown in popularity, but the LGBTQ refugees' micro-businesses still face some severe challenges in the face of homophobia, inflation, rising operating costs, and supply chain issues, ORAM Executive Director Steve Roth lamented, noting that chicken farm business owners were struggling with rising feed costs as an example.
At the same time, the programs are providing optimism for beleaguered queer refugees who find themselves stuck in their host country much longer than anticipated.
"Our work there has given them hope," Roth said in a phone interview with the Bay Area Reporter that the refugees told him during a trip to Kenya to check on the programs last month. It was the first time he traveled to the East African country since the program started, as the COVID-19 pandemic restricted travel.
"A lot of people really embrace the chance to actually have something to do that's constructive and productive," he said.
Roth said he didn't understand or appreciate that aspect of the program as much until his trip.
Roth was pleased to see the program's success. He was also interested in discussing and listening to the challenges and demands highlighted in a report on Kakuma that ORAM published in partnership with Canadian-based Rainbow Railroad in October, as the B.A.R. reported. Fifty-eight self-identified LGBTQ asylum seekers and refugees over the age of 18 from nine different countries, along with 18 key informants, including LGBTQ refugees, religious leaders, and representatives of community and refugee organizations, were interviewed for the report.
What started as poultry farming and soap-making projects have grown into at least nine different entrepreneurial paths, such as sandal-making, tailoring, hairdressing, beadwork, and more, Roth said.
The people he met running the programs and the participants impressed him. Everyone in each type of business has "really embraced" the businesses, he said. They are "passionate about them and are excited to make them succeed."
Queer refugees living at Kakuma, in particular, have used the opportunity, he said.
The report ranked livelihoods programs as a priority to invest in, but it also revealed queer refugees' increased desire to enter the programs has been hampered by high levels of homophobia. According to the report, some LGBTQ community members expressed a desire to participate in the programs but failed to do so to "avoid the hostility from fellow refugees and the host community."
According to the report, only 16% of respondents were enrolled in vocational training through the livelihood programs, but 50% of unenrolled respondents expressed interest in acquiring skills. Among enrolled participants, 78% of them were attending formal technical or vocational colleges while 12% were apprentices learning from established businesspeople.
Of the refugees who participated in the report, 33% reported being engaged in income-generating activities. A high percentage (47%) of the refugees were gainfully employed at organizations within the camp, with 21% working in soap and jewelry production and sales, 16% were small business owners running grocery stalls or alcohol outlets, and 11% were service providers offering hairdressing and tailoring services to camp residents.
Challenges and empowerment
Despite homophobia and stigma that has kept some people who have wanted to participate in the programs away, programs in Kakuma and Nairobi are struggling to meet refugee demands. Some refugees have landed on long waitlists to enter the programs.
The five programs in Kakuma and the nine programs in Nairobi only accepted 15 to 20 participants at a time in each yearlong program, said Roth and Simon Ruta, an acting executive director at Community Supporting Initiatives for Refugees, or CSIFR.
CSIFR is a partner organization in Nairobi that ran the training.
The story is different for some refugees living in Nairobi. Their struggles didn't end after they graduated from the boot camp-style program. Some graduates struggle to put their training into action due to a lack of access to equipment and materials or capital to buy their own machines and supplies, like Ugandan Jonnah Natukunda.
The B.A.R. spoke with Natukunda, 34, a lesbian mother of two. She has not been able to start her business after completing the training about six months ago, even though she wants to, she said. She simply lives too far away from the training facility to access one of the three sewing machines and materials for free now that the daily training sessions have ended. She does not have money to self-invest or funding to purchase her own machine and materials.
Ruta confirmed Natukunda's situation.
Roth explained that program participants apply for seed funding at the end of the program. Their applications, which include a business plan and other information, are reviewed and funding is awarded by a panel of business owners and community organization leaders who work with ORAM.
Another factor for many refugees is maintaining their mental health.
"There is no support. There's still a lot of depression within the community, especially now with COVID-19 because a lot of these services were shut down until now," said Ruta, a 37-year-old Ugandan bisexual man.
The situation is worse for undocumented LGBTQ refugees. Ruta estimated there are more than 200 undocumented queer refugees living in Nairobi.
Ruta said he has observed improving mental health for some LGBTQ refugees who have entered the program since his organization's partnership with ORAM began. He expressed he would like to help more queer refugees, but funding is limited, he said.
Abby Kariuki, 27, a Kenyan queer gender-nonconforming person who is the program's manager at CSIFR, agreed with Ruta. They added that queer refugees also face language, social, cultural, and political barriers.
"It is very stressful and wanting on their mental health, as most do not have the resources, the documents [they need to have] to seek corporate work, so it's very taxing on their mental health," they said.
On the other hand, the program liberates some queer refugees.
"This program is very empowering to them, as it gives them a skill set that they can use in the market," Kariuki said.
The program does more than give the LGBTQ refugees a way to earn a living, as it also educates them about their rights as queer people and refugees in Kenya, which has given them another layer of protection, they added. The program has "mitigated a lot of the problems that the community has faced," they explained, not only as LGBTQ people but also as refugees in their Kenyan communities, allowing them to integrate.
Building the future
Due to its successes and demand, ORAM is putting new muscle behind the livelihood programs. In November, the organization announced in its newsletter that it hired its first full-time livelihoods officer, Winfred Wangari, to oversee and build the program in Kenya.
Roth is hoping to build on the program's success and to fix its problems.
Wangari was not available to speak with the B.A.R. Roth said, due to being new to her role. According to the announcement, Wangari comes to ORAM with seven years of experience working with refugees to achieve self-reliance through livelihood programming. She is currently working toward an MBA in global business and sustainability.
"I think she's really going to help us transform a lot of that work, which is really exciting," said Roth, who believes Wangari will "take it to the next level."
Roth declined to disclose the program's annual budget.
Roth was optimistic in the face of the pandemic's challenges not only health-wise among LGBTQ African refugees, but business-wise.
Roth wants to expand the program's training in the future to include digital opportunities, such as coding and transcription, that can be done from the refugee's homes, he said.
To help LGBTQ African refugee entrepreneurs in Kenya, .
Got international LGBTQ news tips? Call or send them to Heather Cassell at WhatsApp/Signal: 415-517-7239, or oitwnews@gmail.com
Help keep the Bay Area Reporter going in these tough times. To support local, independent, LGBTQ journalism, consider becoming a BAR member.