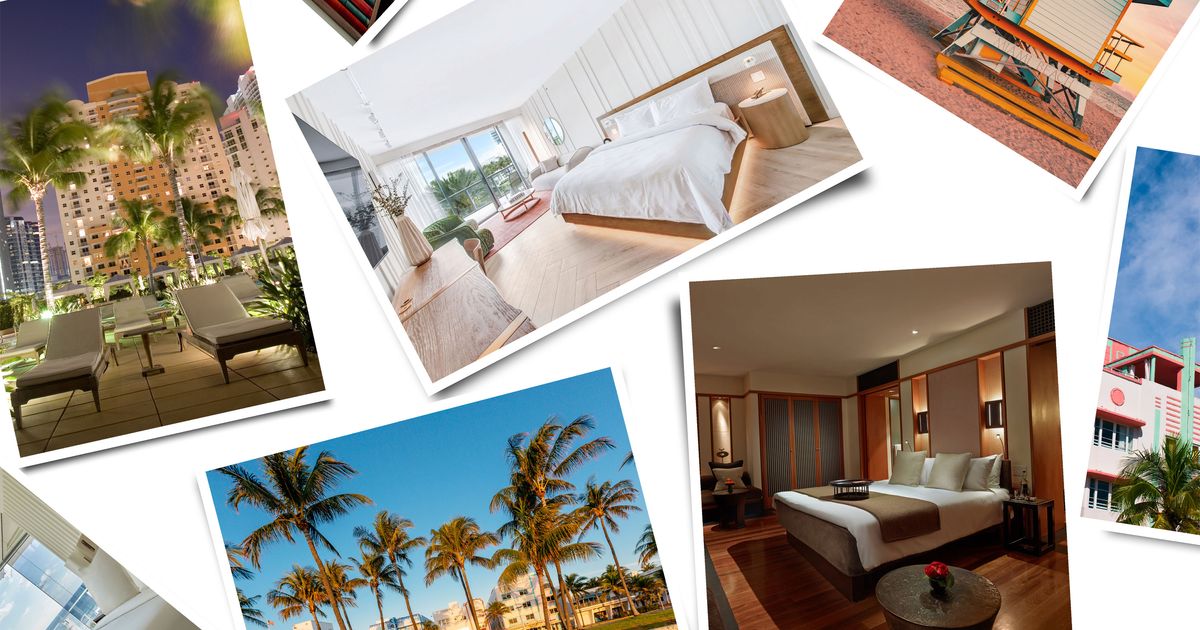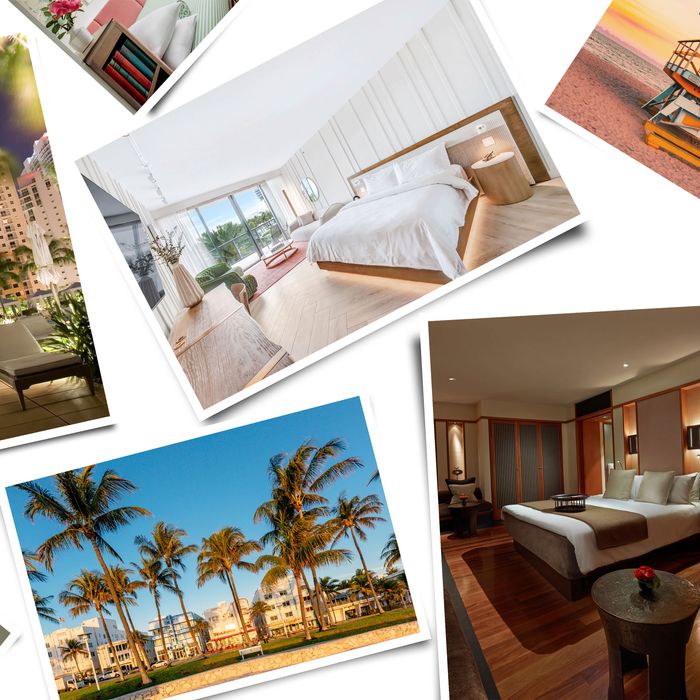 Photo-Illustration: The Stratgeist; Photos: Courtesy of the hotels; Getty Images
There are, as of late, some new reasons one might visit Miami. You may be attending a crypto conference, or considering one of the city's many new tech gigs. Or visiting friends that relocated permanently during the pandemic — along with the New York restaurant outposts that followed them. And then there are all the usual reasons: year-round sunny weather, the beach, Art Basel, spring break, parties, unapologetic luxury.
While global tourism suffered during the pandemic, this flurry of activity and renewed attention has seen Miami "transformed from a long-weekend or escape-the-snow destination to a year-round hub for singles, families, groups, couples, and anyone who wants to travel without facing testing requirements (to enter or to leave)," says Henley Vazquez, founder of the startup Fora Travel. It's also created a perfect storm for wacky hotel rates. While there used to be a lot of promotions for weekday or summertime trips, traveler demand as of late has made it trickier to apply traditional seasonal pricing structures. "The former low season," — i.e. summer — "can now be on par with everything else," Vazquez says. If you're looking to get a good deal at some of the luxury resorts, she recommends checking dates in September when hurricane season impacts prices the most, or booking a longer stay, as many hotels are still offering promotions for travelers with the flexibility for an extended vacation.
To find out where to stay, regardless of occasion, season, or duration, we surveyed 20 stylish and well-traveled restaurateurs, photographers, designers, and publicists who helped us make sense of Miami's bottomless hospitality scene, from the new Pharrell-backed South Beach property to a cozy Parisian-feeling Little Havana hotel. And to try and offer a consistent sense of pricing, we looked at weekday rates for early February, when it's still Miami's high season, but Spring Break hasn't yet descended onto South Florida.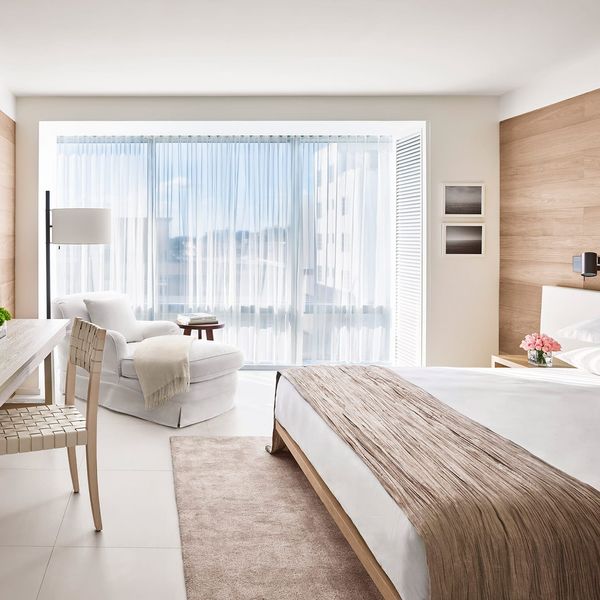 Ian Schrager's three-and-a-half-acre resort on Collins Avenue received major praise from those we surveyed; 13 people included the property on their shortlist of favorite Miami hotels. Massimo Lusardi, the restaurateur behind New York's The Loyal and Uva Wine Bar & Restaurant, says that despite Edition's see-and-be-seen energy, its clean, minimalist interiors offer a surprisingly tranquil stay. "The muted wood and walls of white provide calm and mental space," he adds. (He also recommends the homemade coconut sorbet at the restaurant. "I eat it at breakfast.") Editorial consultant Taylor Stoddard says the hotel's pools are equally peaceful and restorative: "They are legitimately relaxing if you're seeking R&R versus rah-rah," she says, "unlike some of the Collins Avenue neighbors, where it could easily feel like a Vegas day party." As for other amenities, Emil Wilbekin, founder of community platform Native Son, loves the Matador Terrace for dinner and cocktails, and the downstairs bowling alley, while Jaé Joseph, founder of skincare brand The Black Apothecary Office, is particularly enamored with the Le Labo black tea scent that permeates the property. (A signature Schrager touch.) "You smell it upon arrival in the lobby, as you walk the corridors of every floor, and in your room or suite," he says.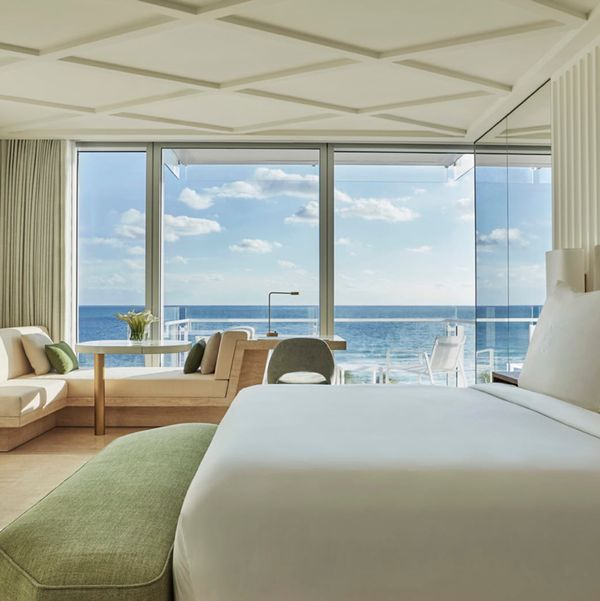 This hacienda-style compound on North Beach charges some of the highest rates in town, but eight of our sources still raved about it. The Surf Club was once a Prohibition hangout for the likes of Henry Ford and Gary Cooper. Fast forward to 2017, when the hotel reopened with a sleek Richard Meier redesign and started a new chapter attracting travelers willing to really shell out. For Henley Vazquez, founder of the startup Fora Travel, The Surf Club is worth the four-digit price tag. "It's that combo of the staff (they're great), the space (four pools, who else has that?), the location (close enough to join into the scene but far enough away to not be forced by it), and the rare amenity offered in Miami, a well-run and complimentary kids' club so my kids are distracted and I can actually enjoy everything else happening here," she says. Model R'el Dade echoes Vazquez's sentiments, and also calls out the on-the-premises Champagne Bar and the massive showers, some of which look out onto the ocean. Musician Chloe Flower (she performed with Cardi B at the Grammys) also recommends booking an oceanfront room instead of one facing the Miami skyline. "Views of crashing waves make every morning paradise."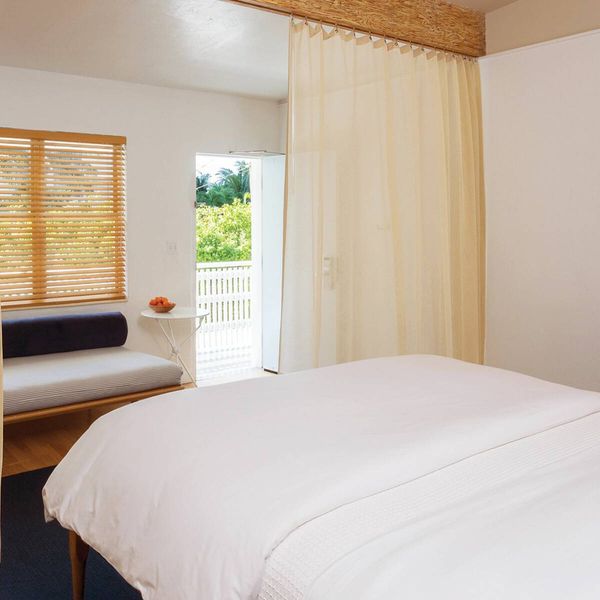 The Standard's Miami Beach outpost is a little more tucked away than its exhibitionist Meatpacking District counterpart in New York. Located on the bayside of Miami Beach, the hotel was recommended by several for its ultra-relaxing qualities. "On my last visit I curled up on one of the hammocks in the hotel's garden, reading Adam Grant's Originals before falling asleep for an epic two-hour nap," says Bianca Hilary Kenworthy, co-founder of hospitality consultancy Pomme. Photographer Marcus Lloyd says one of the best reasons to book here is its spa. "It's almost as if you're immersed into a tranquility tank," he says, suggesting the Detox Cleanse Massage ($190). "I practically floated out of the room once the service was done." For Charlotte Hanna, founder of cannabis brand Rebelle, the most relaxing feature of the property might be the 18-and-up adults-only policy. "I love my kids, but this is where I escape to for a little me time," she says, adding that "if you like a soaking tub, theirs do not disappoint."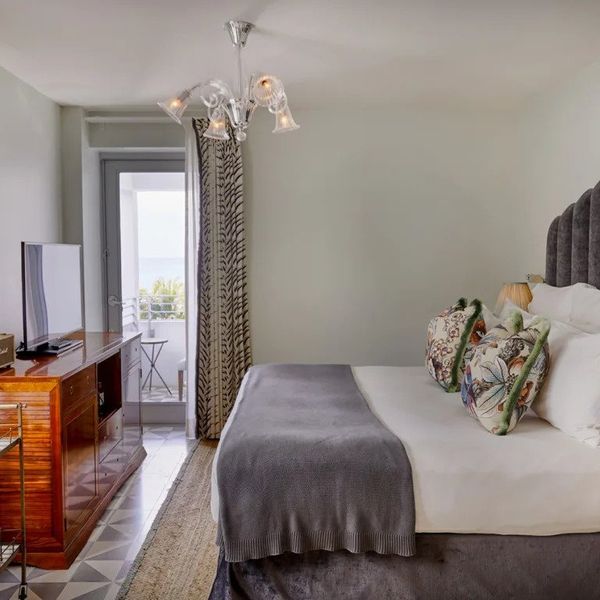 "I know Soho House inspires eye rolls from non-members," says jewelry designer Jayne Moore. (You can only book Soho House as, or through, a member.) "But they manage to make every house feel like home." Moore says the rooms here teleport you to a rustic farmhouse — a decidedly unique design experience in Miami. "There are oversized, dark-wood headboards, patterned armchairs, old wood beams, and ornate chandeliers with Havana-style fans. It's a fusion that works even though it logically shouldn't," she says, adding that it's the kind of property you can spend the whole day in, from coffee to the beach to cocktails to dinner, without getting bored. Linden Pride, owner of New York's Dante, recommends this Soho House location for families, noting that the long "exquisitely designed" pool is where he tried to teach his two young daughters how to swim. But one of his favorite spaces here is the path that leads to the beach. "It feels like you're walking through a little jungle surrounded by lush plants until you finally arrive on the sand."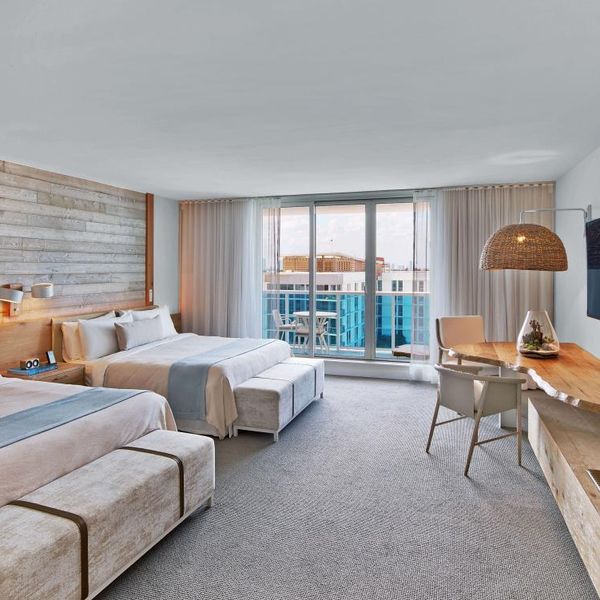 This eco-friendly hotel brand makes a point to tell you about its commitment to sustainability: even the keycard is made of recycled wood. For Samantha Patil, co-founder and CEO of members-only agency Well Traveled, the brand's green ethos and mindful-living approach to hospitality can be felt everywhere. It's not just the recycled-paper hangers, using organic cotton, championing local vendors, or meditation classes. She says that she loves that the driftwood door handles were reclaimed from the original property's boardwalk and that she can eat a plant-based meal at chef Matthew Kenney's onsite restaurant. "Maybe it all feels more luxurious (and worth the price) because it's evident how much time the property took to curate, recycle, and reuse wherever possible," she adds.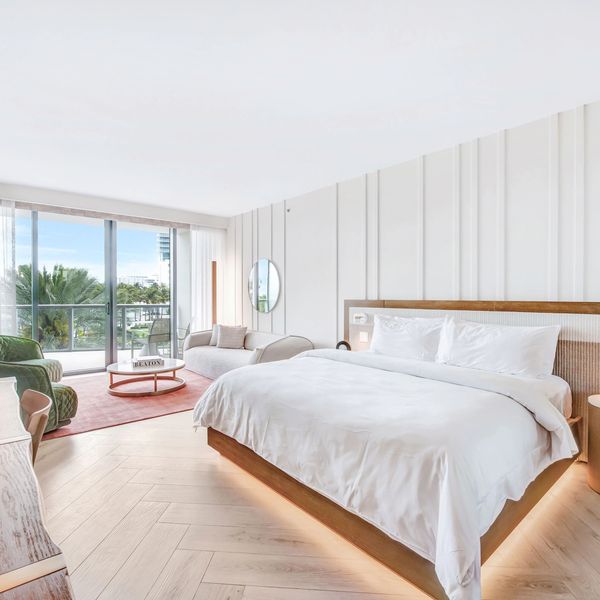 A lot of high-profile hotels have opened in Miami in the last decade, but this recently renovated W still ranked high among our pool of travelers. According to Tiana Webb Evans, founder of communications agency ESP Group, W South Beach remains the place for "sparkly people who like to get dressed up and show off," whether it's at Mr. Chow, Irma's for drinks, or by the pool. Restaurateur Ariel Arce, owner of New York's Niche Niche, was especially impressed by the hotel's art collection: Warhols, Basquiats, David La Chappelles. "I could barely see straight" after a day of pools and partying, she recalls. "But I will never forget that 2 a.m. tour of some of the most incredible pieces of art that people just pass by every day of their stay." And then there's the impeccable service: Marvis Johnson, founder of publishing company Kingston Imperial, said the staff is happy to go off-menu. "I asked a mixologist at Irma's if he could make me a Prince of Soul, which is a cocktail created by Gerard Chamberlain at Apotheke in New York. Sure enough, he did, so now I keep going back."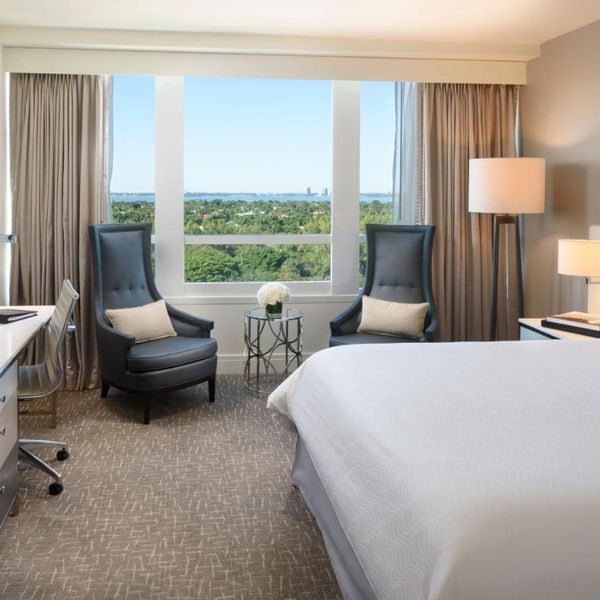 "If you're looking for a place to stay where you're going to get more than just a hotel room, the Fontainebleau is it," says Neda Whitney, Christie's head of marketing. "Traffic in Miami is brutal, and there's nothing more luxurious than being able to say to friends or a client 'let's just go to my hotel' because there's always something happening at the bar, and the food scene is one of the best in Miami: Hakkasan, Stripsteak, Scarpetta." This over-the-top 1,500-room Miami Beach resort has been a celebrity magnet since it opened in the 1950s, and remains as such after a renovation that added a large format nightclub and spa. Whitney recommends getting a room on the bayside, and tapping the Fontainebleau's concierge service for dinner reservations. "Last time they got me into Zuma on a Thursday night, which is usually impossible."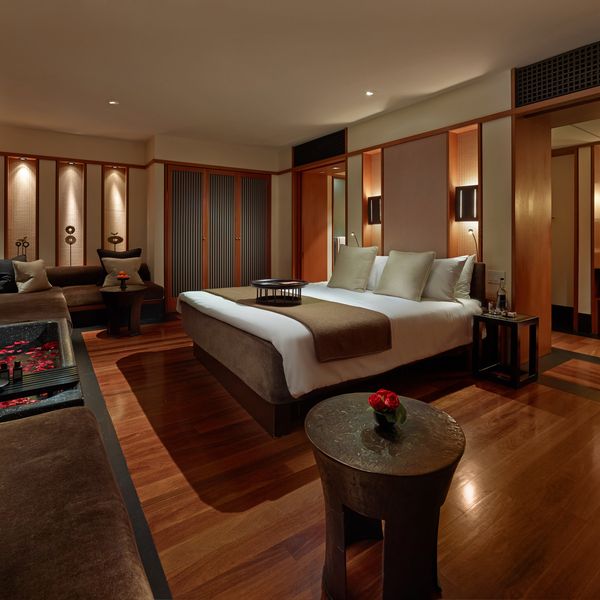 Originally opened in 2004, this luxury hotel may have had its heyday in the mid-aughts, but for Berkson it remains "inimitable" for seamlessly combining Asian hospitality and style with Miami's Art Deco heritage. The building itself is an Art Deco relic, but The Setai has a dark wood lobby and brick flooring that was transported from a historic building in Shanghai. "All of it contributes to an immediate sense of calm," he says. "I totally understand why so many celebrities stay at The Setai. It never felt hectic. It makes you forget that South Beach's loud nightclubs are just minutes away." He suggests rounding out the experience with a Southeast Asian–style iced tea in the courtyard by the hotel's three pools.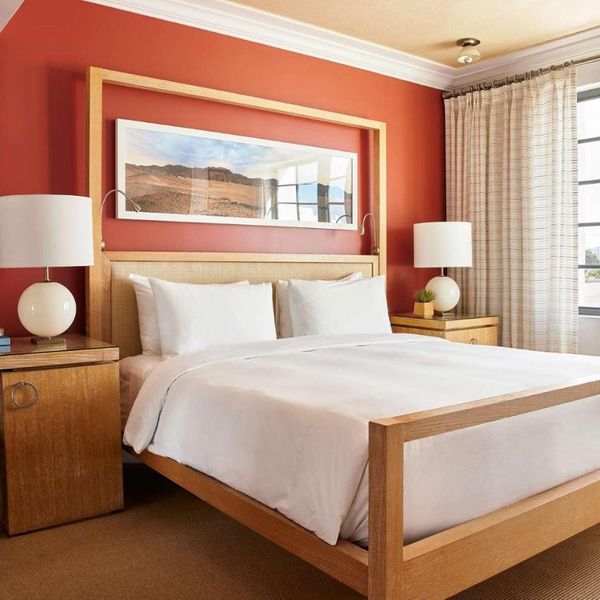 "The Betsy manages to deliver on what seems to be impossible for any other hotel: a quiet, intimate boutique experience in the middle of South Beach," says Arturo Diaz, who runs communications for Air France, who says he often recommends it to friends who prioritize getting a good night's sleep. The property's unique architecture (the 1940s building might make you think you're in Charleston instead) should appeal to design enthusiasts wanting a break from the non-stop Art Deco of South Beach. Wilbekin also loves the hotel's cultural programming, citing poetry readings, jazz performances, and conversations with LGBTQ storytellers.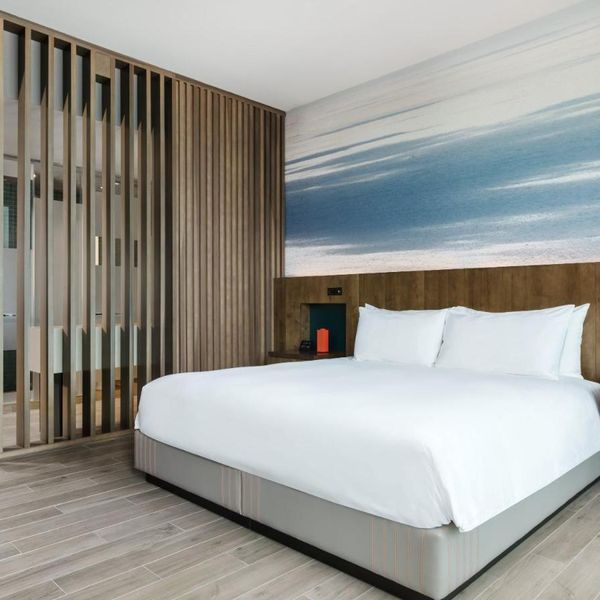 East Miami stands out for its location: It's just a 15-minute drive from the airport, and it's connected to Brickell City Centre, making it a useful property for anyone in town for business. (It's also useful for quick errands: "If you land in Miami and need a last-minute outfit or have ran out of eyeliner, you're just a few steps away from Zara and Sephora if you're staying at this hotel," Stoddard says.) When it's time to get fancy, Stoddard is also very into Sugar, the rooftop bar with sprawling views of the city. "For those less familiar with Miami, this city doesn't have many rooftop venues." Stoddard recommends opting for one of the Bay King rooms, which overlooks the water and comes with a walk-in rain shower and a soaking tub pushed against floor-to-ceiling windows. "Also, the rooms here have smart functionality and more lighting mood options than you could ever imagine."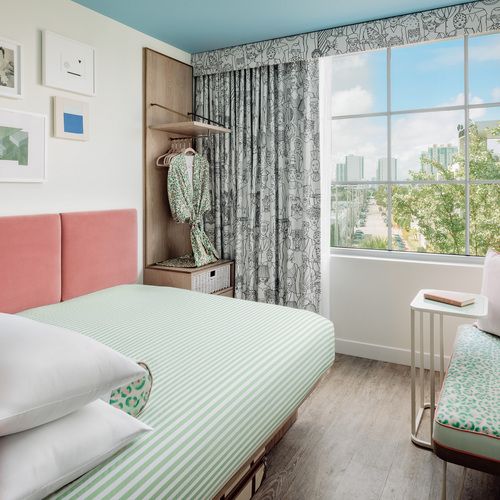 Photo: Christine Gatti/B) 2020 Christine Gatti
One of the newest hotels on Miami Beach is a Pharrell project; the musician opened it in May 2021 with Miami nightclub owner David Grutman. So far, it's been a major draw for aesthetes. "They quite literally left no photo op unturned or unexplored," Kenworthy says of the interiors by Ken Fulk. "Every corner is like, surprise! Here's another wallpaper, sconce, piece of art, or fixture more beautiful than the last," noting especially the homage to Miami's Art Deco heritage. Since opening, the hotel has hosted a ton of buzzy parties, so if you want to avoid that, Kenworthy recommends booking earlier in the week when things are quieter. She stayed here a couple of times over the summer when she spent nearly every weekend in Miami. "I love losing myself in the hotel and exploring its nooks and crannies," she adds. "But it's easier to do that if they're not hosting an epic party."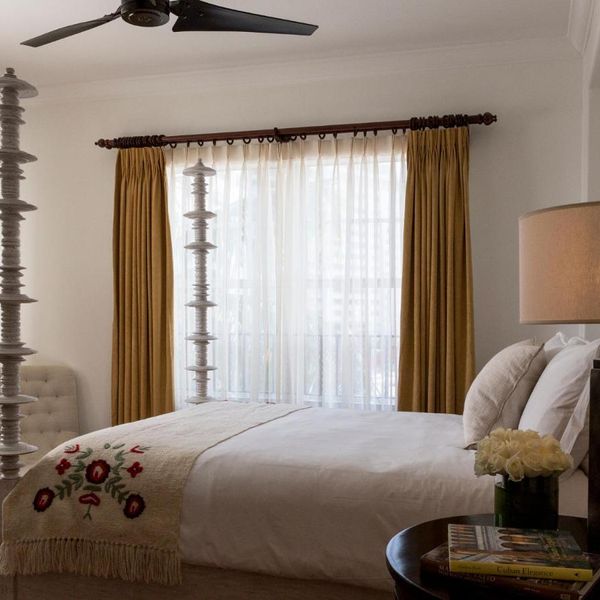 Casa Faena is probably best known for the $15 million gold-coated mammoth sculpture that Damien Hirst unveiled there in 2016, and that kind of outlandishness seems to exist almost everywhere else at the hotel. "Staying here will immediately make you feel like a big-timer," says Brandon Berkson, founder of concierge service Hotels Above Par. "It envelops you in the grandeur and glamor of 1950s Miami Beach." That energy extends to on-site locales like the Saxony Bar, where you can't wear flats or sandals. "This is a place where you have to leave your leggings at home and show up like an adult again," says Vazquez. All that said, we're including the Faena in the more-affordable section because its rooms frequently go for under $300 a night, dropping as low as $150 a night during the summertime low season.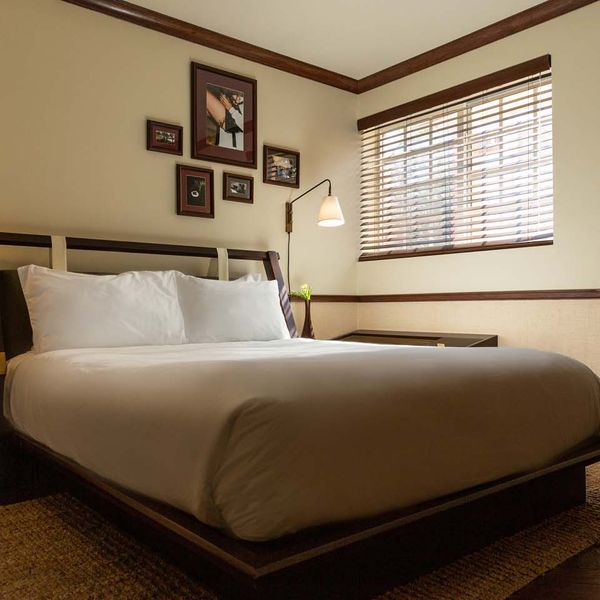 Kenworthy says that getting away from the beach to stay at a neighborhood like Little Havana gives travelers a broader perspective on Miami, noting its proximity to incredible restaurants like Sanguich de Miami, Cubaocho, and La Colada Gourmet. She also loves how the rooms have been outfitted (with a Smeg fridge, Le Labo toiletries, Marshall speakers) to make you feel like you're home. "The Queen rooms are definitely on the smaller side and cozy, but I think I had one of my best night's sleep ever on that mattress," she says. Joseph agrees: "​​It's not central to South Beach, but this property has the feel of a private members' club on a smaller, more intimate scale."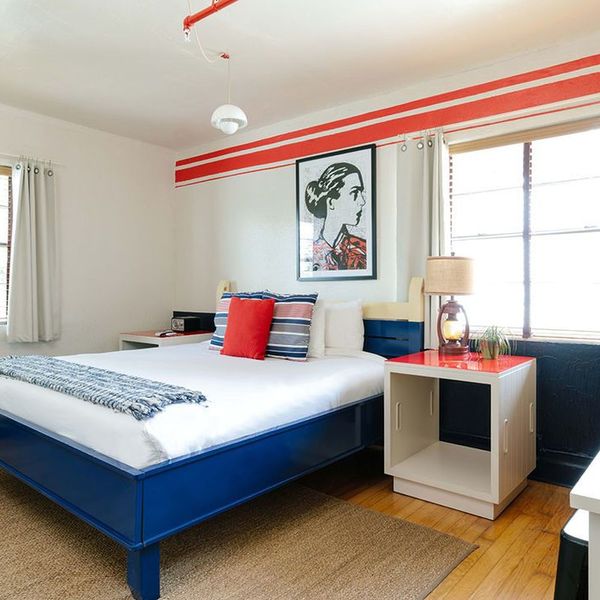 Like most people who have stayed at the Miami location of the Freehand — or any location, for that matter — art consultant Nina Blumberg appreciates its relaxed-yet-lively atmosphere, especially with a top-notch cocktail bar like Broken Shaker, which she says elevated the city's drinking scene when it opened in 2012. "You really get a sense of that open-air, chill Miami vibe," she says. "It's perfect for those people, like me, who prefer low-key customer service, want a hip hotel without fuss and drama, and want to be close to the action in South Beach," says Diaz. It's also nowhere near as pricey as some of Miami's other sought-after hotels: Private rooms start at $205, and groups can book hostel-like rooms ranging from shared dorms with eight beds to quads and bungalows.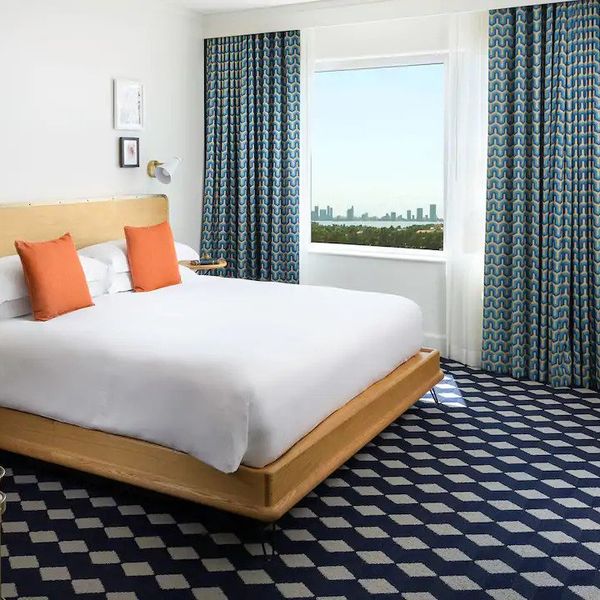 "This property has so much personality that you'd never know it's technically Hyatt-managed," Patil raves. "It's a true tribute to the glamour of 1950s Miami, with pastel pinks and baby blues that really pop." The Confidante is an especially great value during the off-season (between Labor Day and Memorial Day), when it's the perfect time to take advantage of the poolside cabanas, which Patil says are so big, they're more like mini suites. Patil's dog benefits from the hotel's amenities: "There's a big difference between 'pets allowed' and 'pet-friendly,' and this property really nails it," she says. The Confidante offers in-room pet beds, beach and pool access for dogs, and popsicles for dogs when it's scorching outside.
get the strategist newsletter
Actually good deals, smart shopping advice, and exclusive discounts.
By submitting your email, you agree to our Terms and Privacy Notice and to receive email correspondence from us. See All
The Strategist is designed to surface the most useful, expert recommendations for things to buy across the vast e-commerce landscape. Some of our latest conquests include the best acne treatments, rolling luggage, pillows for side sleepers, natural anxiety remedies, and bath towels. We update links when possible, but note that deals can expire and all prices are subject to change.